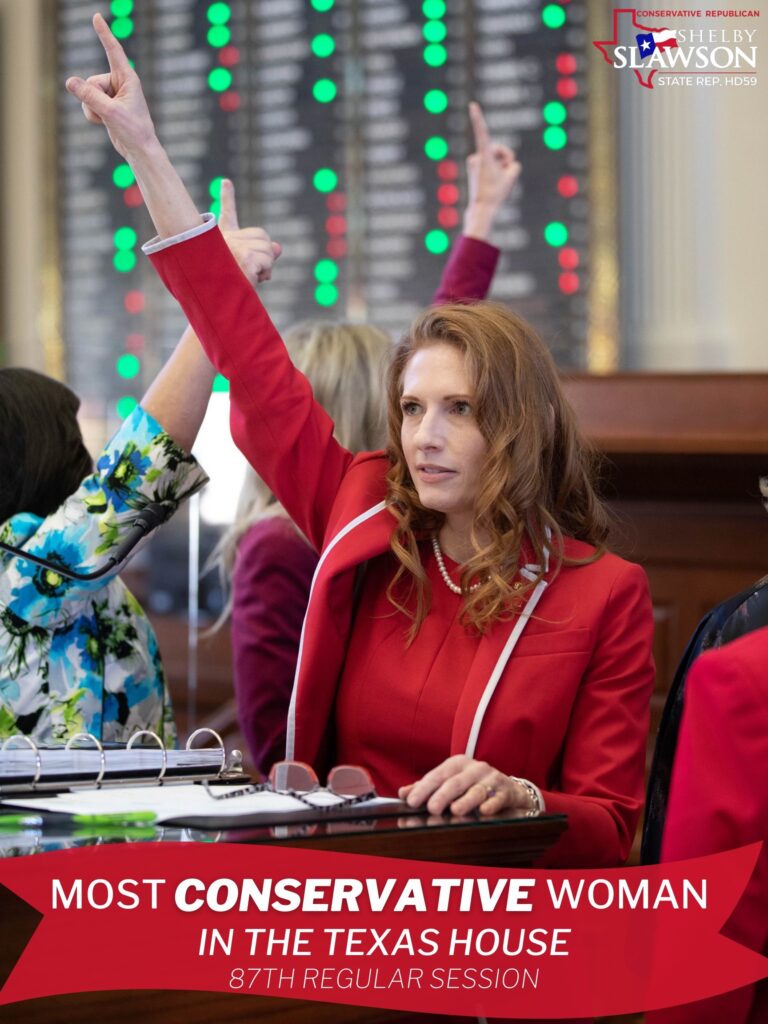 Shelby Slawson is the State Representative for Texas House District 59.
During the 87th Legislative Session, Central Texans' election to send in a conservative fighter was quickly met with appointments of Rep Slawson to the powerful Calendars, State Affairs, and Pensions, Investments & Financial Services committees. These appointments are especially remarkable for being the first freshman appointment to Calendars since 1985 and the first simultaneous freshman appointments to Calendars and State Affairs since 1973. In the 88th session she again served on the powerful State Affairs and Calendars committees.
As your State Rep, and as another rarity for a freshman legislator, she carried the historic Texas Heartbeat Act (SB 8) in the House, passing the most significant pro-life bill in Texas' history. After the US Supreme Court upheld the Heartbeat Act, it because the nation's first effective ban on abortion since Roe.
In both the 2021 and 2023 post-session, independent analyses of legislators published by Rice University, Rep Slawson is pleased to be ranked the Most Conservative Woman in the Texas House, and in 2023 is the 5th most conservative of all 150 members.
"We achieved many significant victories for Texans, including historic property tax relief, significant investments in border security, passage of the Texas Heartbeat Act and protection of your Second Amendment rights and right to worship.  There is much work yet to be done, and I look forward to continuing to fight for you.
Thank you from the bottom of my heart for your enthusiasm and passion for our Deeply Red Heart of Texas. Our journey—our fight for our shared conservative values and to Keep Texas RED—has only just begun."
THANK YOU,
God Bless You &
God Bless Texas,
Representative Shelby Slawson